The MAX SHARAM Discography
A Million Year Girl - Album
Released in the US in 1996, A Million Year Girl comes with some beautiful cover artwork. On the front is a photo of Max (naked again) with a gorgeous ocean/gorge-scape behind her and a wooden doll house in front. The inner sleeve opens out as if you are opening the doors into the doll house - it then transferring you into a fantastic and mysterious kingdom. The album contains the following tracks:

1. Be Firm [3:47]


2. Coma [3:43]


3. Purple Flower [4:19]


4. Lay Down (Candles In The Rain) [4:01] - A Melanie Safka cover


5. Is It OK If I Call You Mine? [2:59] - From the movie "Fame"


6. A Toast To... [0:18]


7. Jezu's Jewellery [4:00]


8. Huntinground [4:29]


9. Can I Catch Fire? [3:57]


10. Alice [4:34]


11. Learning To Let Go [2:51]


12. Raining Angels [4:11]


13. Orchestra Au Naturel [3:45]


Coma - EP
The EP has a gatefold cover in sepia tones. On the front is a picture of Max laying with a lion. Inside is Mermax!
along with the lyrics to most of the songs. The EP version has been deleted, however the lucky few may find
copies left at record stores.
The tracks on the EP are:


1. Coma (A Million Year Girl)


2. Hunting Ground


3. U Cradle Me


4. Is it OK if I call you mine?


5. CrashLanding!
Coma - Single
The single has the same picture on the front, but in blue tones, and does not have the gatefold cover, so no lyrics or Mermax! picture.
The tracks on the EP are:


1. Coma


2. U Cradled Me


3. CrashLanding!
Track 3, Crashlanding!, was produced and arranged by Max.
Laydown - Single
Mixed by Tom Lord-Alge

1. Laydown (candles in the rain), M. Safka (Warner Chapell)


2. Laydown, M. Safka (Warner Chapell)


3. Laydown (instrumental), M. Safka (Warner Chappel)


4. Koma, M. Sharam (EMI Music Australia)
Track 4 is Coma sung in German by Max.

Be Firm - Single
This single has a picture of a miniature Max with black hair on a swing in the palm of a mans hand.

1. Be Firm


2. Out in the Cold
The second track is in honor of women and menopause.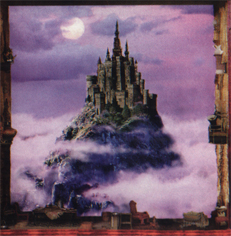 Comacarma - Single
This single contains a very long and, shall we say, interesting, trance version of Coma and Nick Launay's 007-ish remix of Huntinground.

1. Is it okay if I call you mine? 2:59


2. Huntinground 4:19


3. Comacarma (Coma re-mix) 13:00